IASO Smart Powder Pact - 2 Color
Description
 It protects the skin from ultraviolet rays, for us reduce the shine.
 
: To prevent drying of the skin, soft, and finish in the natural.
: As a feather lightly, comfortable powder fact, such as air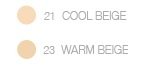 How to use

Take the appropriate amount to puff, and to spread to press lightly on the order of both cheeks, the amount nose.


Ingredients